Feature Story
New panel-mount ORCA HMIs for the operation of explosion-protected mac…
페이지 정보
작성자
최고관리자
댓글
0건
조회
576회
작성일

22-10-13 15:01
본문
Operating and monitoring machines and package units really only need HMIs to be one thing: reliably available at any time. This is a requirement that HMIs integrated into explosion-protected machinery have to fulfil over many years. The new ORCA panel-mount devices have been specifically developed for a long operating time.
Mixers, centrifuges, dryers or mills are operating around the clock and must work without fail. Their operators not only need information on the machine status(such as causes of errors or maintenance data), but also require detailed information on the process status. In a way, HMIs are the window to the inside of the machine or package units. They reveal to the operators whether everything is running smoothly, where a problem might arise and how to resolve it.
In general, HMIs are integrated into the machines or package units and are provided by the manufacturer to the operator fully functional. They include interfaces to the higher level DCS. The most critical requirement for the HMI is therefore that it must not fail. After all, the every-day running of processes is fraught with enough challenges as it is. A non-functioning display or failure of the touch screen could easily have disastrous consequences such as a standstill of the machine or a halt of the entire production process. Consequently, a long life-cycle, robustness and resistance to wear and tear are absolutely critical.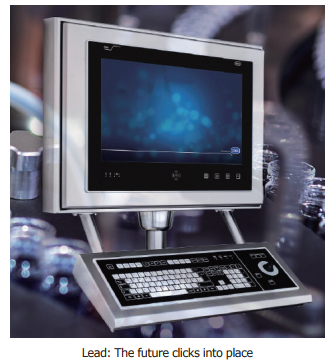 Advantages of modular concept
The issue of longevity has been fully addressed with this product design. Some background: explosion-protected HMIs frequently do not have a modular design, in fact, certification requirements often mean they are encapsulated as one device. In the rare instances where a device has a modular design, the modules are typically connected via many-stranded cables. Not only does this type of construct entail more work during installation, but it is also quite error-prone. A much greater challenge is posed by the fact that usually the entire device has to be sent back to the manufacturer for the repair of only one defective component. Even in the case of an update of the PC unit, the entire device has to be replaced, with machine operation restricted or completely paused during that time.
With the launch of our new, modular ORCA HMI platform we are introducing the new, cordless EasyConnect click-fit system. The components of a traditional operator system are split into two modules: an electronics box(E-Box) containing the computer or thin client, and a display box(D-Box) with the multi-touch screen. These boxes can be freely combined, providing flexibility during maintenance and upgrades. Where in the past a new system was needed to increase processing power, the new EasyConnect concept means that now you only need to purchase a new E-Box with a more powerful processor.
In just a few steps, the D-Box and the E-Box can be detached from each other without having to disconnect any cables, and can be replaced with another D-Box or E-Box. This ensures the fastest possible intervention in the case of HMI failure. This is also possible whilst the system remains installed. Upgrades also no longer pose a problem, helping operators to maintain all HMI components in line with the latest technical developments. Investments remain future-proof. In addition, the ORCA panel-mount modules weigh little compared to other explosion-protected products, making them easier to handle.

Experience informing every detail
Regardless of specific operating locations and industries, R. STAHL has been successfully developing HMI device platforms for reliable display and operation in hazardous areas for over 30 years. The launch of the ORCA device platform introduces new HMI devices to the market that profit from decades of experience with the proven R. STAHL HMI platforms: 20 years of EAGLE, 15 years of MANTA and 10 years of SHARK.
The new ORCA device platform includes a panel-mount device with three different display sizes(12", 15" and 22"), and two E-Boxes for easy integration into the machine. The E-Box Standard features an Intel® Atom™ processor and an Ethernet interface, and has been designed to operate with 24 VDC. The E-Box Pro has been developed for more challenging requirements and features an Intel® Core™ i5 processor, several Ethernet interfaces in either 1000Base-TX, 1000Base-SX or 1000Base-LX, as well as other serial and USB interfaces.
Our ORCA HMIs offer attractive features paired with an open upgrade path that helps you keep up with progressing technologies while protecting your investments over the next 15 years and beyond. And the best part: existing EAGLE or MANTA installations can leverage our migration services, making it even easier for them to launch into the future of hazardous area HMIs.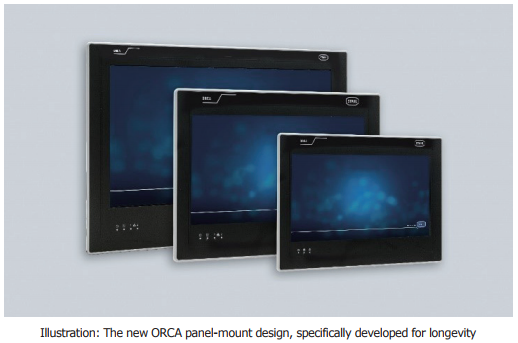 Competence in the face of adversity
Users in the process industry are frequently confronted with rough ambient conditions. Nonetheless, information must be available non-stop, 24 hours, 7 days a week. The ORCA device platform's high level of robustness is ensured by features such as its scratch- and solvent-proof glass and polyester front. The ORCA devices are UV-resistant and, at the front, both GMP and clean-room compliant. The built-in modules guarantee overall IP66 protection and can also be integrated directly in the hazardous area. At the same time, their luminous widescreen displays are easily readable. The displays support many types of resolution so that processes and machine statuses can be graphically represented in exact detail. Even older projects can easily be migrated to the new platform. Also, the displays are as simple to operate as a smartphone, due to their many input options. The touchscreen can register and process several inputs simultaneously. Swiping, scrolling, zooming etc. work exactly as is familiar from smartphones. Further features make these new devices even more attractive: they can be operated with gloved fingers, and are cost-effective. And what will happen if worse comes to worst? In the unlikely event of an HMI failure, the diagnosis LEDs at the front will indicate the probable cause.
And another feature is making the ORCA HMIs the obvious choice: Frequently, machine and package units use the same visualisation concept both in the safe and the hazardous areas. This is why R. STAHL is offering the same cut-out sizes as Siemens® for the 12" and 15" displays, making the switch from a non-ex machine to a machine in the hazardous area uncomplicated, at least where the HMIs are concerned.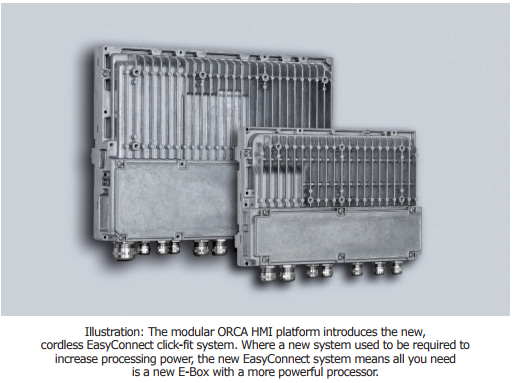 Ready for the future
Compatibility and sustainability have always been among the design priorities of R. STAHL's device platforms. When developing the new ORCA HMI platform, we already took future EU directives into account. In addition to not containing harmful substances, devices will have to be designed in such a way that their components can be recycled individually. Thanks to their innovative construction, the display and electronic parts can be repaired and recycled separately, so that the aluminium and raw materials from the PCBs can be re-used.
In addition, the device platform is fully repairable. The type of ignition protection often determines whether a device can be easily repaired. If, for example, the casting component is directly poured onto the electric parts, or if the components are glued on, the user can usually only dispose of the entire HMI at the end of its life-cycle. If, however, sand is used instead of a casting compound, this can be removed and defective components inside the HMI can be replaced. Repairs can be carried out quickly and cost-effectively. Also, the ORCA HMIs consist of energy-efficient components. They feature an auto-dim function, work without fan and as a consequence have a small CO2 footprint.
​
In short: the modular system of the ORCA HMI device platforms means operators are on the safe side, ready for the future. The system consists of click-on modules that R. STAHL continuously updates in line with technological advance, so that they can be upgraded at little cost. Whether it's a new processor or a new operating system - the ORCA platform will meet your requirements even in 15 years' time.
■ Contact: R. STAHL www.r-stahl.com