Feature Story
ClassNK backs LH2 and LCO2 carriers as effective decarbonization solut…
페이지 정보
작성자
최고관리자
댓글
0건
조회
464회
작성일

22-11-11 15:26
본문

As climate concerns continue to grow and the need to develop new energy sources becomes more urgent, the maritime sector's environmental challenges include not only ship emissions but the safe carriage of alternative fuels.
As a clean fuel which does not emit carbon dioxide(CO2) when burned, hydrogen(H2) offers significant 'green' potential and, in Japan, work is already under way to establish a supply chain to facilitate a 'Hydrogen Society'. Land-based CO2 capture, utilization and storage(CCUS), meanwhile, has been attracting global attention for its ability to capture carbon generated by thermal power plants and factories and either use it as a resource or store it in a stable underground geological formation.
In their gaseous forms, both hydrogen and carbon dioxide can be transported over short distances via pipeline. However, in the liquid states which offer greater energy density per cubic meter and facilitates storage, both H2 and CO2 must be transported in tanks, either in trucks or aboard ships.
Over long distances, the most efficient means of transporting liquefied H2(LH2) and liquefied CO2(LCO2) is by sea. The development of LH2 and LCO2 carrier vessels has therefore emerged as one of the most promising areas for innovation in the maritime sector.
As an active contributor to advanced initiatives targeting decarbonization both within and beyond the shipping industry, ClassNK is supporting the development and safe operation of LH2 and LCO2 carriers.
Since H2 is liquefied at the extremely low temperature of -253 degrees Celsius and presents hazards including flammability and permeability, handling the substance requires the observance of intensive safety procedures. In 2017, to contribute to the safe seaborne transportation of LH2, ClassNK published its "Guidelines for Liquefied Hydrogen Carriers", which are based on the International Maritime Organization's(IMO) Interim Recommendations for Carriage of Liquefied Hydrogen in Bulk.
The leading classification society has since applied its guidelines in surveying, at the construction phase, the hull structure, machinery, onboard equipment and other components of the world's first LH2 carrier ship. Built by Kawasaki Heavy Industries, Ltd.(KHI), a member of the CO2-free Hydrogen Energy Supply-chain Technology Research Association(HySTRA), Suiso Frontier was added to ClassNK's register on 3 December 2021. The Society continues to support the vessel's safe operation through in-service surveys, utilizing the knowledge gained through these surveys to keep its guidelines up to date.
Earlier this year, ClassNK issued an approval in principle(AiP) for a large LH2 carrier from KHI. The Society had previously granted the company an AiP for the design of the cargo containment system, at 40,000m3 class per tank. Four such tanks will feature on board KHI's forthcoming large LH2 carrier, giving the vessel a total LH2-carrying capacity of 160,000 m3. For the same ship, ClassNK granted AiPs for cargo-handling systems, which are key design elements of the vessel, and dual-fuel main boilers that use H2 boil-off gas as fuel.
As well as helping to establish the Hydrogen Society, ClassNK has been active in its support of the CO2 economy, recently issuing an AiP for LCO2 carriers developed by Mitsubishi Shipbuilding and Nippon Yusen Kabushiki Kaisha(NYK Line). The Society executed the design review based on Part N of its Rules for the Survey and Construction of Steel Ships, which incorporate the IMO's International Code for the Construction and Equipment of Ships Carrying Liquefied Gases in Bulk(IGC Code). The AiP confirms adherence to the rules regarding the design of each cargo tank system, hull form and other components, accounting for different tank-pressure settings for medium- and large-scale vessels.
Liquefied hydrogen and liquefied carbon dioxide –
and the ships designed for their transportation –
can make a significant contribution to realizing a
carbon-neutral society, says ClassNK.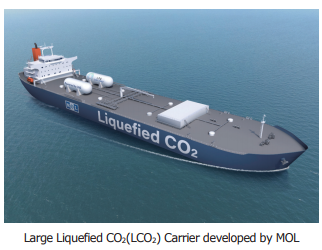 Applying the same set of rules incorporating the IGC Code, ClassNK in August granted an AiP for the design of a large-scale LCO2 carrier by Mitsui O.S.K. Lines, Ltd.(MOL). MOL had launched research and development (R&D) on the adoption of a large-scale LCO2 carrier in response to a call for proposals by Japan's New Energy and Industrial Technology Development Organization(NEDO) to complete the conceptual design, under a project entrusted by NEDO to Japan CCS Co., Ltd(JCCS). The vessel design is one element of NEDO's initiative "CCUS R&D and Demonstration Related Project/Large-scale CCUS Demonstration Project in Tomakomai/Demonstration Project on CO2 Transportation". The MOL ship is intended as a practical solution to the need for the long-distance transportation of 1 million tons of CO2 a year, based on NEDO's vision to implement CCUS technology by 2030.
ClassNK has been directly supporting advancements in CCUS since 2020, when the Society joined the "Carbon Capture on the Ocean"(CC-Ocean) project to test a small-scale ship-based CO2-capture demonstration plant. Conducted in collaboration with Kawasaki Kisen Kaisha, Ltd.("K" Line) and Mitsubishi Shipbuilding Co., Ltd. – part of the Mitsubishi Heavy Industries(MHI) group – the world-first demonstration resulted in the successful separation and capture of CO2 from the test ship's engines. Earlier this year, the project received the "Marine Engineering of the Year" award from the Japan Institute of Marine Engineering.
Through its active role in the verification of LH2 and LCO2 carriers and related technologies, ClassNK is facilitating the development of two fast-growing markets that promise to make a significant contribution to realizing a carbon-neutral society.
■ Contact: ClassNK www.classnk.com