Business News
Voyager Worldwide partners with the Maritime and Port Authority of Sin…
페이지 정보
작성자
최고관리자
댓글
0건
조회
420회
작성일

22-11-11 16:34
본문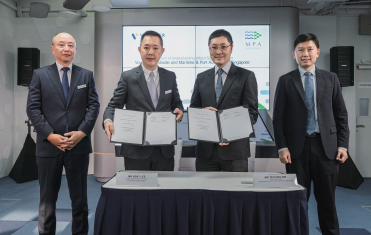 Voyager Worldwide is partnering with the Maritime and Port Authority of Singapore(MPA) to promote joint innovations that support voyage optimisation and just-in-time port arrivals through a signed Memorandum of Understanding. Voyager Worldwide will drive the innovation required through its new Voyager Living Lab, created as part of the growing ecosystem of innovation in Singapore to address maritime industry challenges.
The Voyager Living Lab is an innovation and collaboration initiative dedicated to improving port to port voyage efficiency. It is both a virtual community of global stakeholders who will work together for the advancement of maritime innovation and 2240 square feet of physical space with a unique mix of facilities and virtual infrastructure to foster and facilitate maritime technology advances across research, ideation and testing.
Working with MPA and the Singapore Shipping Association(SSA), the Voyager Living Lab's Collaborate Programme will also provide an incubator environment - bringing maritime start-ups together with major brands to solve wider maritime challenges, providing free access to living lab resources and funding.
To help develop the talent needed to drive maritime innovation, the Voyager Living Lab will also work closely with maritime-related education institutions to provide internship opportunities, support post-graduate programmes and projects, and collaborate on maritime-related academic and research initiatives.
Port congestion has worsened since the pandemic, with supply chains struggling under the weight of shipping demand as a combination of logistical delays and extreme weather saw ports overwhelmed and ships forced to wait at anchor. This has made it harder than ever to predict accurate port arrival and increased average wait times outside ports, delaying shipments and driving up carbon emissions.
Stakeholders across the supply chain acknowledge the need to optimise ocean voyages to achieve just in time arrival, making significant cost-saving efficiencies and a contribution to building a sustainable shipping and ports industry including the IMO's goal of reversing the shipping emissions trend and getting to net-zero emissions by 2100.