Issue
Iridium Announces Operation Pacific Waves
페이지 정보
작성자
최고관리자
댓글
0건
조회
46회
작성일

22-11-11 16:46
본문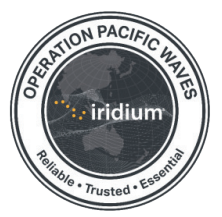 Iridium Communications Inc. (Nasdaq: IRDM) today announced Operation Pacific Waves(OPW), a series of partnership-driven field exercises involving more than 20 organizations. Focused on the Indo-Pacific region, OPW will deploy Iridium® and Iridium Connected® equipment in live scenarios highlighting the Iridium network's resilient, real-time and truly global capabilities. A variety of Iridium SATCOM field demonstrations will take place in coordination with an international contingent of organizations including Iridium partners and existing customers like the U.S. Department of Defense, coalition partners and scientific research organizations. The event will take place between Wednesday, September 28 and Friday, September 30, 2022.
OPW is focused on the operational need for Beyond Line of Sight(BLOS) communications and mission command across a vast Area of Responsibility(AOR). It will highlight capabilities that directly support Indo-Pacific mission sets enabled by Iridium's Enhanced Mobile Satellite Services(EMSS) contract with the United States government(USG). The EMSS contract provides unlimited narrowband subscribers and usage over a secure USG gateway. Innovative technologies and capabilities featured include: Iridium Certus® broadband and midband; Push-To-Talk(PTT); a variety of unattended sensors capable of tracking, environmental monitoring, remote control functions and managing data and image delivery; and Iridium Global Line of Sight® service, enabling truly global real-time command and control(C2) for drones and autonomous vehicles. It will also highlight in-vehicle solutions and cutting-edge capabilities like real-time on-the-move 1080 HD video over L-band, telemedicine, search & rescue, and developing and maintaining a common operational picture for military, civil and NGO applications.
As part of the operation, multiple real-time voice, data, and video communications threads will be exercised both at-the-halt and on-the-move. With a focus on the Indo-Pacific region, primary threads will feature Australia, Hawaii, the Philippines and Japan, with some extending as far as South Africa, Alaska, and Antarctica. Additional threads will be made with various sites across the United States and Canada, including in Virginia, Arizona, Colorado, Ontario and more, showcasing a real-time common operating picture(COP) from all corners of the Earth.