Issue
ABS and DSME Team-Up on Decarbonization Strategy
페이지 정보
작성자
최고관리자
댓글
0건
조회
436회
작성일

22-11-11 16:47
본문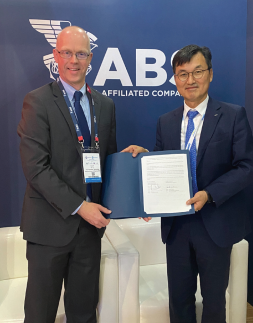 ABS and Daewoo Shipbuilding & Marine Engineering Co., Ltd.(DSME) have formed a joint development project(JDP) to create a decarbonization strategy for DSME's LNG carrier designs.
Signed at Gastech, the project will see ABS and DSME investigate carbon emission performance of ships in various segments. Specialists from ABS' Simulation Center in Singapore will then simulate the performance of a range of decarbonization technologies. The outcomes of the JDP will allow DSME to compare and select the best decarbonization options for each specific ship segment.
"ABS has world class capabilities in understanding emissions technologies and developing decarbonization strategies thanks to our network of sustainability centers. Our industry leading simulation center allows us to understand in rich detail how the various options play out at the fleet or individual vessel level. We are well positioned to support DSME with this exciting project," said Georgios Plevrakis, ABS Vice President, Global Sustainability.
"We are pleased to cooperate with ABS, and the task of reducing greenhouse gas emissions has now become a global concern and a key topic regardless of industry. We will maintain our leading position in the market by developing various technical options for decarbonization," said Jun-Lyoung Seo, EVP / CTO, Head of Engineering and Technology Unit, DSME.