Issue
Steerprop Wins First Contract for the New Steerprop T Propulsion Units…
페이지 정보
작성자
최고관리자
댓글
0건
조회
462회
작성일

22-11-11 16:49
본문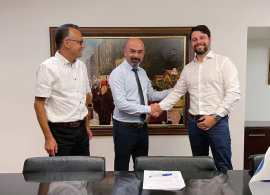 Steerprop, the leading designer and manufacturer of propulsion systems for the most demanding applications and toughest conditions, has signed a contract with Turkish Med Marine shipyard to deliver the propulsion units for two RAscal 2100 harbour tugs designed by Robert Allan. The contract is the first for the new Steerprop T product line, especially designed for tug operations and tugbuilders' stringent demands.
The growth of global trade and marine transport has brought about larger vessels and a need of more powerful and manoeuvrable tugs, with increased bollard pull for ship assistance and harbour operations. As evidence of Steerprop's commitment to its customers and the changing tug market, the company has developed the Steerprop T azimuth propulsion product line. These robust and hydrodynamically efficient propulsors are able to adapt to changing configurations and versatile operations with mechanical, hybrid or electrical prime movers, while focusing on simplicity and cost-effectiveness.
It is therefore with special pride that Steerprop now announces the first contract for propulsor units of the new Steerprop T product line. The contract with Turkish Med Marine, one of the largest tug building shipyards in the world, was signed this summer and includes equipment for two harbour tugs. The four SP 175 T propulsion units have 1.80 m propellers in nozzles and provide the power of 1080 kW per unit to deliver 35 TBP. The delivery is scheduled for January 2023.