Issue
MOU signed between SSA and ClassNK to establish framework for cooperat…
페이지 정보
작성자
최고관리자
댓글
0건
조회
400회
작성일

23-01-16 18:05
본문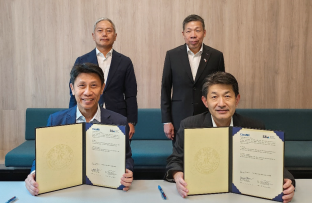 Singapore Shipping Association(SSA) and ClassNK have signed an MOU(Memorandum of Understanding) to establish a framework for cooperation in cyber security research activities.
Cyber security has been acknowledged by the maritime industry as a key element to keep ships safe during operations, and to ensure its solid and steady digital transformation in coming years. Singapore, being a global maritime hub that connects regional and global markets, is ideally positioned for such research activities that eventually contributes to reinforce cyber resilience of the global supply chain to be launched.
With the signing of the MOU, the two parties will conduct joint basic research concerning establishing vessels' cyber security operation centers that provide crew members with support from onshore in monitoring and responding to cyber events onboard. Based on expertise and experience gained from this research, SSA and ClassNK will work on drafting a joint white paper on the finding of the research and developing education and training plans of personnel to work for vessels' cyber security operation centers jointly.